Year: 1969-1970
Model: Mustang & Shelby
Delivery: Usually Ships in 3 Days

Jack's Comments:
This is the best available Autolite air cleaner decal on the market. The picture below and the picture of the unrestored 1969 Mach 1 on our parts navigation page shows the correct location. Before clicking the Add to Cart button, specify the part number you need based on the chart below.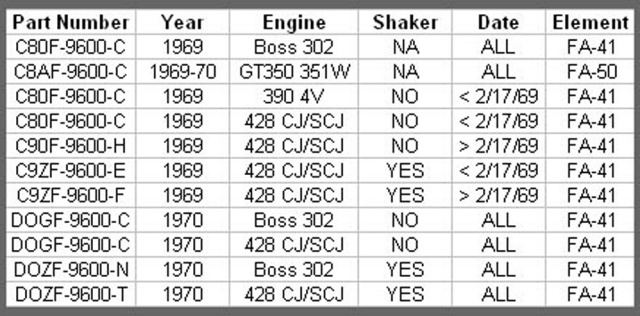 1970 302 Standard D0AF-9600-A
1970 351C Standard D0ZF-9600-Z
1970 351C RAM-AIR D0ZF-9600-AA
* For 1969 Shelby GT500 (before 2/17/1969), use C8OF-9600-C
* For 1969 Shelby GT500 (after 2/17/1969), use C9ZF-9600-F
** Per April 15th, 1969 Shelby GT500 Build Sheet
1969 BOSS 302 Concours Notes: From our research of original survivors and 1969 magazine publications indicate the 1969 BOSS 302's didn't come with a Autolite air cleaner service decal.